Tags
"Night Wolves", "Serbian Honour", "Srpska čast", Aleksandar Trifunović, "Noćni vukovi", Banja Luka, coup in Montenegro, Dragan Lukač, EU, High Representative in Bosnia and Herzegovina, Milorad Dodik, NATO, Nerdin Ibrić, paramilitary group Serbian Honour, Paravojna grupa "Srpska čast", Policija Republike Srpske, Politics, Putin, Re-arming of Serbs in Bosnia, Refugees, Republika Srpska, Rezolucija o genocidu u Srebrenici, RS police, Russia trainers to Bosnia, Russian influence over Serbs in Bosnia, Russian intelligence operations, Russian meddling in Bosnia, Russian paramilitary, Russian paramilitary group "Night Wolves", Russian police, Russian trainers, Serb paramilitary, Serbia, Serbian paramilitary group, Serbian separatism in Bosnia, Srebrenica, Srpske paravojne jedinice, Tatjana Telić, Terrorism, the Guardian, Ukraine conflict, US armed forces, US embassy, Valentin Inzko, Visoki predstavnik međunarodne zajednice u Bosni i Hercegovini, Vitalij Čurkin, Vladimir Putin, War, Zalužani, Žurnal, Žurnal.info
Purchase of 2,500 automatic rifles raises concerns about Russia's influence in region
Julian Borger World affairs editor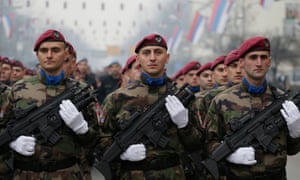 The purchase of thousands of new guns by the Bosnian Serb police has raised concerns over the intentions of the separatist-led regional government and deepening Russian influence in a divided and economically depressed nation.
A shipment of 2,500 automatic rifles from Serbia is due to arrive in the Serb-run half of Bosnia in March, weeks before the scheduled opening of a new training centre where Russian advisers have been expected to play a role under an agreement signed more than two years ago.
The Bosnian Serb authorities have defended the arms purchase as necessary for self-defence against potential terrorist attacks. In a statement they stressed that their police trained extensively with US forces, and not with Russian police, and denied plans to bring Russian trainers to Bosnia.
The weapons are arriving at a time when Bosnia's long-term stability is in doubt. The Dayton peace agreement ended the Bosnian conflict just over 22 years ago, dividing the country into two semi-autonomous parts: the Republika Srpska (RS) and a Muslim-Croat federation. The deal stopped the killing but created a system that rewarded ethnically based politics. Nationalist parties have a tight grip on power in their separate fiefdoms, corruption is rife, and the country has the highest official rate of youth unemployment in the world.
Earlier this month, the European commission unveiled a new strategy for the region, offering a "merit-based" path to EU membership, but left it unclear how Bosnia can overcome its deep structural problems.
Serb civil society activists, the central Bosnian government in Sarajevo and western diplomats believe that a new heavily armed police unit will be used by the Bosnian Serb separatist leader, Milorad Dodik, to entrench his position and intimidate opponents ahead of elections in October.
In the longer term they fear that the force could be used to further Dodik's aims of independence, at the risk of a new war in the region.
Russia, which sees Dodik as a bulwark against Bosnian membership of Nato, has shown strong backing for the Serb separatist, who has met Vladimir Putin at least six times since 2014.
On Monday, Dodik confirmed the arms purchase, which was first reported by the Sarajevo-based news site Žurnal, and he said he would take further steps to arm the police for "the fight against terrorism". "It is an entirely legitimate action and we have nothing to hide," Dodik said. "For 20 years we didn't have the right to equip the police, now we have decided to do it."
The international community's high representative in Bosnia, Valentin Inzko, expressed concern about the shipment. "I would like the country to have as few weapons as possible. If one side gets these types of weapons then the other side will want them too," he said.
Dodik has cultivated relations with the Night Wolves, a Russian motorcycle club closely tied to Putin, which is under US sanctions for its paramilitary role in the Ukraine conflict.
At the same time, Russian-trained members of a paramilitary group Serbian Honour appeared on the streets of Banja Luka.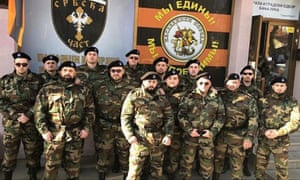 "It is an organisation of angry muscle-men that the government is using to threaten and intimidate its own people," said Aleksandar Trifunović, a Bosnian Serb journalist. "However, this time they go beyond the usual show. This time it feels dangerous."
The RS ministry of the interior said in a written response to questions from the Guardian that its police had "never conducted any type of training with the Russian police authorities neither in Russia nor in [Republika Srpska], including special forces".
The statement said that a new $4m (£2.8m) counter-terrorism training centre due to open in April at the site of a former army barracks at Zalužani outside Banja Luka was being built with RS resources and had been visited by US embassy staff as well as members of the US armed forces.
"No Russian delegation ever came to visit the centre," the statement said. It defended the arms purchases, saying the current police weapons were more than 20 years old and that the RS police were no longer subject to limits on the number of long-barrelled weapons that were imposed in the wake of the conflict of the 1990s.
It argued a well-equipped police counter-terrorist force was necessary, pointing to a 2015 attack on a RS police station in Zvornik by a 24-year-old returned Bosniak (Bosnian Muslim) refugee. The attacker, Nerdin Ibrić, killed a Serb police officer and wounded two more before being shot dead. But his motives were unclear. Ibrić's father was killed by Serb police in the first days of ethnic cleansing that began the war in 1992. But because he reportedly shouted "Allahu Akbar" it was deemed to be a terrorist attack.
In 2015, the RS interior minister, Dragan Lukač, signed a cooperation agreement with Moscow that envisaged Russian specialists providing counter-terrorist training in RS, but an interior ministry spokeswoman, Tatjana Telić, said there are currently no plans to bring Russia trainers to Bosnia.
"The Zaluzani centre will be open for all the partners who are sincere, with good intensions and professional skills. We have not any concrete future arrangements with Russian trainers," she said.
A Russian-run "humanitarian centre" in Nis in Serbia is suspected by US authorities of providing a hub for Russian intelligence operations, such as an attempted coup in Montenegro in October 2016.
A western diplomat in Bosnia said there was "no hard evidence" so far that Russians were establishing a similar hub in Bosnia. "But we're watching closely," the diplomat added.
Kurt Bassuener, a Bosnia expert at the Democratisation Policy Council, said that by drawing down a stabilisation force to just 600 troops and giving up on a postwar initiative to integrate Bosnia's divided police forces, the EU had left a vacuum that Russia is likely to fill. "As long as the barriers to entry are non-existent, we are leaving the barn door open," Bassuener said. "It's a screaming policy failure we haven't paid for yet."
---
---
ČLANAK PREVEDEN NA B-H-S na Žurnal.info
Aktivisti civilnog društva, vlasti u Sarajevu i zapadne diplomate vjeruju da će separatistički lider bosanskih Srba, Milorad Dodik, iskoristiti teško naoružanu policijsku jedinicu kako bi utvrdio svoju poziciju i zastrašivao protivnike prije izbora. Na duži rok oni se plaše da bi se ta sila mogla koristiti za nastavak ciljeva Dodikove nezavisnosti, pod rizikom novog rata u regionu
Pošiljka od 2.500 automatskih pušaka iz Srbije trebalo bi da stigne u dio Bosne kojeg vode Srbi u martu, nekoliko nedelja prije zakazanog otvaranja novog centra za obuku, u kojem se očekuje da će raditi ruski savjetnici.
Oružje stiže u vrijeme kada je dugoročna stabilnost u BiH upitna. Dejtonski mirovni sporazum okončao je bosanski sukob prije više od 22 godine, podijelivši zemlju na dva poluautonomna dela: Republiku Srpsku (RS) i muslimansko-hrvatsku federaciju. Dogovor je zaustavio ubistva, ali je stvorio sistem koji je nagrađivao etnički zasnovanu politiku. Nacionalističke partije imaju jak uticaj na moć u svojim zasebnim feudima, korupcija je velika, a zemlja ima najvišu zvaničnu stopu nezaposlenosti mladih u svijetu.
Ranije ovog mjeseca, Evropska komisija je predstavila novu strategiju za region, koja je ponudila put ka članstvu u EU na osnovu "zasluga", ali je ostavila nejasno kako Bosna može prevazići svoje duboke strukturalne probleme.
Aktivisti srpskog civilnog društva, centralna bosanska vlada u Sarajevu i zapadne diplomate vjeruju da će separatistički lider bosanskih Srba, Milorad Dodik, iskoristiti novu teško naoružanu policijsku jedinicu kako bi utvrdio svoju poziciju i zastrašivao protivnike prije izbora u oktobru.
Na duži rok oni se plaše da bi se ta sila mogla koristiti za nastavak ciljeva Dodikove nezavisnosti, pod rizikom novog rata u regionu.
Rusija, koja vidi Dodika kao bedem protiv bosanskog članstva u NATO-u, pokazala je snažnu podršku srpskom separatisti, koji se od 2014. godine susreo sa Vladimirom Putinom najmanje šest puta.
SASVIM LEGITIMNO ORUŽJE
Dodik je u ponedjeljak potvrdio kupovinu oružja, o čemu je ranije pisao online magazin Žurnal sa sjedištem u Sarajevu, i rekao da će preduzeti dalje korake kako bi policiju naoružao za "borbu protiv terorizma".
"To je sasvim legitimna akcija i nemamo šta da sakrivamo", rekao je Dodik. "Već 20 godina nismo imali pravo opremiti policiju, i sada smo odlučili da to uradimo."
Visoki predstavnik međunarodne zajednice u Bosni, Valentin Inzko, izrazio je zabrinutost zbog pošiljke.
"Želio bih da zemlja ima što je manje moguće naoružanja. Ako jedna strana dobije ovu vrste oružja onda će i druga strana to željeti ", rekao je on.
Diplomati u Sarajevu naveli su da je i federalna policija nedavno kupila nekoliko stotina dugih cijevi, ali je većina policije u kantonima u Federaciji nosila samo pištolje.
Inzko je rekao da policija u njegovoj matičnoj Austriji ima samo 400 pušaka.
"Normalna policija ih ne treba", rekao je.
Srpski lider govorio je na dan kada je položio vijenac na spomenik ambasadoru Rusije pri UN-u, Vitaliju Čurkinu, koji je prije dvije godine stavio veto na rezoluciju Savjeta bezbjednosti koja bi osudila masakr u Srebrenici iz 1995. godine kao genocid.
Dodik je također održavao odnose sa "Noćnim vukovima", ruskim motociklima koji su blisko povezani sa Putinom, a koji su pod američkim sankcijama zbog svoje paravojne uloge u sukobu u Ukrajini.
Istovremeno, na ulicama Banjaluke pojavili su se pripadnici paravojne grupe "Srbska čast" koje su obučavali Rusi.
"To je organizacija bijesnih snagatora koje Vlada koristi da prijeti i zastraši svoj narod", rekao je Aleksandar Trifunović, novinar, bosanski Srbin. "Međutim, ovaj put oni idu dalje od uobičajene predstave. Ovog puta se osjeti opasnost. "
MILIONSKI POLICIJSKI CENTAR
Srpski zvaničnici koji su se zalagali za teško naoružane policijske kontra-terorističke snage ukazuju na napad na policijsku stanicu RS u Zvorniku 2015. godine od strane 24-godišnjeg povratnika. Napadač Nerdin Ibrić ubio je srpskog policajca i ranio još dva prije nego što je ubijen. Ali njegovi motivi nisu bili jasni. Ibrićev otac je ubijen od strane srpske policije u prvim danima etničkog čišćenja koji su započeli rat 1992. godine. Međutim, pošto je, navodno, viknuo "Allahu Akbar", smatralo se da je teroristički napad.
Ovaj incident se od tada koristi kako bi se opravdala izgradnja policijskih snaga. Centar za obuku za borbu protiv terorizma, vrijedan četiri miliona američkih dolara, bi trebao biti otvoren u aprilu na mjestu nekadašnje vojne kasarne u Zalužanima kod Banjaluke.
Ministar unutrašnjih poslova RS Dragan Lukač potpisao je 2015. godine u Moskvi sporazum o saradnji koji je predviđao da ruski stručnjaci pružaju kontra-terorističku obuku u RS.
Srpski opozicioni aktivista, koji nije želio da bude imenovan, tvrdi da su ruski savjetnici već stigli na područje Banja Luke i da će i Zalužani i planirani novi teretni terminal na lokalnom aerodromu na kraju biti korišteni kao ruski "humanitarni centar ".
Za sličan centar u Nišu u Srbiji američke vlasti sumnjaju da služi kao čvorište za operacije ruske obavještajne službe, kao što je pokušaj državnog udara u Crnoj Gori u oktobru 2016. godine.
Zapadni diplomata u Bosni je rekao da do sada nije bilo "čvrstih dokaza" da su Rusi uspostavili slično čvorište u Bosni. "Ali posmatramo", dodao je diplomat.
Kurt Bassuener, stručnjak za BiH u Vijeću za politiku demokratizacije, rekao je da je povlačenjem stabilizacijskih snaga na samo 600 vojnika i odustajanje od poslijeratne inicijative za integraciju podijeljenih policijskih snaga u Bosni, EU ostavila vakuum koji će Rusija vjerovatno popuniti.
"Sve dok barijere za ulazak budu nepostojeće, mi ostavljamo otvorena vrata", rekao je Bassuener. "Još nije plaćena cijena te propale politike."